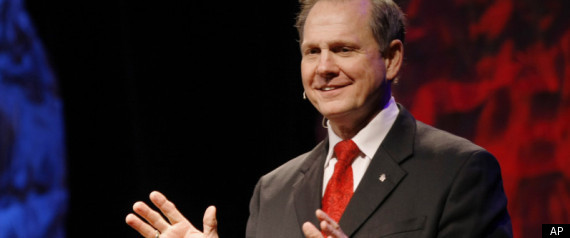 Former Alabama Judge Roy Moore has
announced
his that he will be running in 2012 and that he will form an exploratory committee:
"Moore is holding a press conference at 10:10 a.m. today, said Danny Carroll, a former state legislator who is now with the Family Leader, a socially conservative advocacy group.

He is about to embark on a tour of Iowa, home of the nation's earliest caucuses, according to MoorePAC, a Gallant, Alabama-based political action committee."
Roy Moore was a former chief justice of the Alabama Supreme Court. He is well known for his refusal to follow a court order requiring him to to remove a large granite monument of the Ten Commandments from the state Supreme Court building. As a result of his refusal to obey the court order, he was
removed from office
as a judge and faced
ethics charges
for disobeying the federal court order. He's also made two attempts to become elected as Governor of Alabama but failed each time.
Quiet honestly, this is a very surprising and unexpected announcement. But it does make the 2012 elections more interesting for conservatives. Roy Moore faces a very tough battle if he wants to win the Republican nomination.
Not only will he find himself in a
large crowd of Republican
candidates but he will be competing against other more well known social conservative candidates like Sarah Palin, Mike Huckabee, Michelle Bachmann, Rick Santorum and other candidates.
Moreover, given that the only thing that will distinguish himself from other candidates is the fact that he refused to obey a court order to remove the Ten Commandment monument since all the candidates will all claim that they support lower taxes, limited government and supports the war on terror. He has a real danger of becoming a single issue candidate. As a result, his chances of winning the Republican nomination will be very slim.