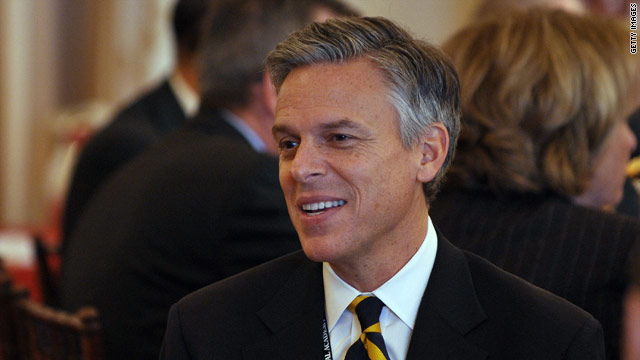 After much speculation, Jon Hunstman has announced that he will be forming a
political action committee
for the 2012 Presidential Election:
Moving swiftly since his return to Washington from Beijing Friday, Huntsman filed paperwork with the Federal Election Committee to begin "H PAC." In the event he runs, the organization will be the last placeholder before he announces a

full-blown campaign

.

"This is a paperwork step," said spokesman Tim Miller. "He's doing the organizational things required by campaign finance law. When he wants to make an announcement he will make an announcement."
Through calculated press leaks—like last week's motorcycle photos and Politico's profile of the ambassador's "rock 'n' roll years"—supporters appear to be laying the foundation for a new, potentially risky Huntsman brand: the only cool Republican candidate.



If this is indeed the strategy, it would hew to the philosophy of John Weaver, a veteran Republican strategist and avid Huntsman supporter who worked on Sen. John McCain's 2008 campaign before quitting. Weaver speaks often and ominously about a "ticking demographic time bomb" that's working against the GOP.

"There's a cultural buffer between people over 40 and people under 40," Weaver told me last year. "We are driving young people away from the party."
Huntsman himself has argued
in the past that building a Republican candidate who plays well to that under-40 crowd will likely require a decisive departure from some party dogma. The candidate will have to embrace environmental issues, for instance, and tack to the center on gay rights—both areas where Huntsman has demonstrated moderation.
The strategy of making a political candidate look cool and hip isn't new. Bill Clinton and Barak Obama have both used that strategy with successful results. I don't recall any Republican Presidential candidate ever attempting to use this tatic to win the White House. Jon Huntsman's team thinks that this strategy will work:
And when all those "unguarded" details about Huntsman's youth are strung together, a personal narrative emerges that may be familiar to the so-called millennial generation. As a teenager, Huntsman dropped out of high school to focus on playing keyboard in his band, Wizard. He and his friends split time between practicing in a converted radio station in Salt Lake City, riding around in a Scooby Doo van, and dining at a grubby local restaurant called Bill and Neda's.
Such youthful aimlessness has become a defining characteristic of the modern twentysomething wandering through the American recession. And while Huntsman eventually completed high school and graduated from the University of Pennsylvania, his story stands in stark contrast with the well-bred, ambitious youth of Republicans like Romney.
August 16, 2009

Dear Mr. President,

I am most grateful for the graciousness and kindness you have shown me and my family – particularly your confidence in my ability to represent you in China. Mary Kaye and I will begin our journey tomorrow – leaving behind a state we love – but also anticipating an extraordinary experience in Beijing. You are a remarkable leader – and it has been a great honor getting to know you.

Jon
In a way and by an irony, in fact, the Obama administration may have done the ambassador a huge favor. Far from sidelining him, his China posting has given him the sort of foreign-policy credentials about which every governor who wants to be president fantasizes on a daily basis. The administration has put him on the front lines of what is arguably the most important economic and national-security challenge that the country faces and, in the process, put him in direct touch with the CEOs of some of the biggest and most powerful companies in the country—all of whom make it a point to meet with Huntsman when they are in Beijing, and many of whom are said to have come away deeply impressed. And in a moment in America when anxiety over the long-term threat that China poses to our prosperity is running high, Huntsman is ideally positioned to capitalize on that emotion politically by presenting himself as the man who understands the nature of the challenge and what to do about it best.
Even if Jon Hunstman can overcome the complaints from the older voters that he has worked for Obama, there are other reasons why older conservatives may not like him is because he's very liberal on many issues such as gay marriage, cap and trade and the environment.
Despite these facts, it appears that the Huntsman is ready to go full steam ahead if the former governor of Utah decides to run.
Another challenge for the former govenor of Utah is Mitt Romney. Although they are both Mormon, they appear to be rivals ever since the
2002 Winter Olympics in Utah
:
It first flared when Romney was tapped to take over the 2002 Salt Lake City

Olympics

— a position that Huntsman's father, a powerful chemical magnate, was pushing for his son. It surfaced again before the 2008 presidential race, when Huntsman abandoned his support for Romney to campaign for rival John McCain.
The fact that John Huntsman and Mitt Romney are both members of the LDS Church will come up as an issue in the election. However, both men have
different approaches
in how they plan to explain their faith to the American voter.
"There are just some people for whom it will not be settled," Romney recently told the Boston Globe. "That's just the nature of who we are as a people. A lot of people have differing views."

Huntsman, seen as a less-likely candidate after his appointment by Democratic President Barack Obama last year, appears to be taking a different tack.

In a recent Fortune magazine interview that appeared on

CNNMoney.com

, his Mormon credentials were described as "soft," unlike his more devout family. His father, Jon Huntsman Sr., is an Area Seventy in the LDS Church.

The former governor noted in the interview that his children attend Catholic schools, and his adopted daughters come from different religious cultures, one Buddhist, the other Hindu.

"I can't say I am overly religious," Huntsman is quoted as saying in the interview, which refers to his consideration of a 2012 run. "I get satisfaction from many different types of religions and philosophies."