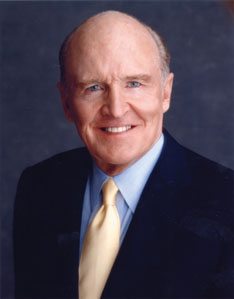 While Mitt Romney is racking up an impressive list of endorsements from political leaders around the country, he's also getting endorsements from businessmen who know what it takes to create jobs and what is required to keep the economy healthy. One such businessman is
Jack Welch
, the former CEO and Chairman of General Electric, who
recently explained
why he was endorsing Mitt Romney:
Its interesting to point out that many people
speculated
that Jack Welch would be endorsing Tim Pawlenty and nobody knows if he would have endorsed him had he not dropped out. That's still up for speculation. However, now Tim Pawlenty is not a candidate for 2012, the former CEO and Chairman of General Electric has decided to endorse Romney.
Now that Jack Welch has endorsed Mitt, I expect more high profile businessmen to step forward and also give their endorsement of Mitt Romney in the near future.