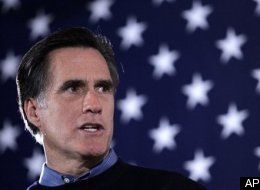 Ruth Griffin
, is a powerful Republican woman in New Hampshire, has decided to endorse Mitt Romney in the 2012 election, if he decides to run. In 2008, she was a supporter of Mike Huckabee but will not endorse him for a second time. What was it that made her switch from being a Huckabee supporter to a Romney supporter? You'll be surprised. She's a fan of RomneyCare. Here's what she had to say:
"No. 1, he's a very capable man and being from New Hampshire, seeing what he did in Massachusetts with the health issues, it was a very successful approach for the people of Massachusetts," she told POLITICO in a phone interview from her home in Portsmouth. "I think he had the right plan at the right time, and we certainly don't have that on the federal level now."
"Griffin spent nearly two decades on her state's health planning and review board, so she saw first-hand how hard it is to control costs (Romney's program has led to increased costs, one of many objections critics level at it).



"I know that every new trinket that comes out, every hospital wants to get it," she said. "Unless you've got the right boards and commissions to rein them in, you're escalating the costs of health care."
She discounted conservative criticisms of Romney's plan for including an individual mandate on the grounds that he ultimately increased coverage levels."
"Mitt Romney

has won the support of

John Thrasher

, Florida Republican state senator and former chairman of the state GOP. "If Governor Romney decides to run for President in 2012, I will absolutely be supporting him and helping him in Florida," Thrasher

told the Florida Times-Union

. Romney helped fundraise for Thrasher during his 2010 campaign.
New Mexico's Republican Lieutenant Governor, John Sanchez, is reportedly considering a run for the state's open Senate seat. That would pit him against former Rep. Heather Wilson in a GOP primary. Sanchez would reportedly position himself to the right of Wilson, a moderate."